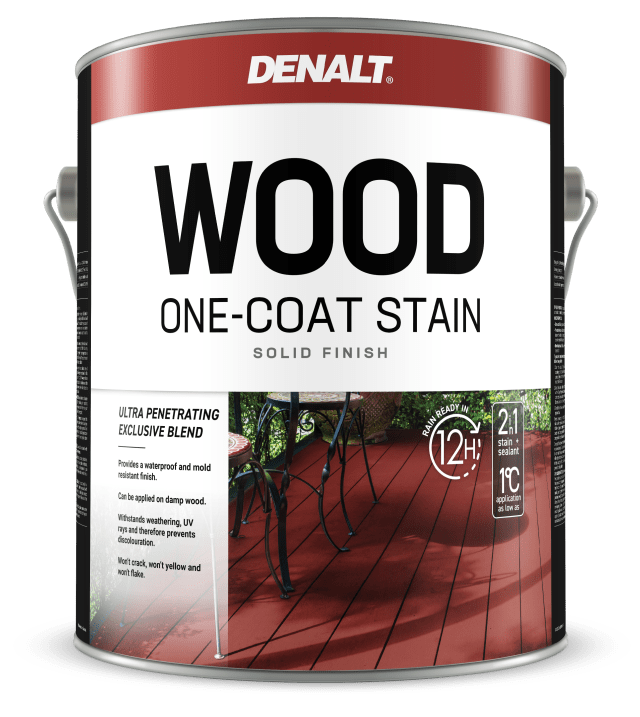 Exterior Paints and Stains
Hybrid Exterior Stain
Designed to provide long-lasting protection, this solid acrylic stain guarantees impeccable results right from the start. Thanks to its high coverage  formula, you only need one coat to beautify your garden and patio decor!
All-season protection from weather, mildew and UV rays
Wide choice of rich colours to refresh furniture, railings, fences, decks and wood patios
Rain-ready 16 hours after application
Maintain the appearance of your wood projects with Denalt
Denalt exterior 2-in-1 stain and sealer is available in over 1,320 colours, so you'll always find the right colour for your project. What's more, it offers enhanced waterproofing and is formulated to prevent peeling.
Transform your outdoor space with our deep, rich shades in less than a day!
Trust Denalt's advanced formula to provide long-lasting protection for all your outdoor wood projects.
Features and Benefits
Flawless protection and results in one coat
Microporous technology to prevent peeling
Effective application, even on slightly damp wood
Coverage of up to 450 sq. ft. (41.8 m²) per gallon
UV absorbers preserve the natural beauty of the wood
Sizes
Gallons (3,7 L)
Quarts (1 L)